Most Popular Instagram Filters & Effects of the Week (Halloween edition)
Instagram effects and filters of the Week (Halloween edition)
---
This list compiles the most popular filters and effects on Instagram this week. New list every week!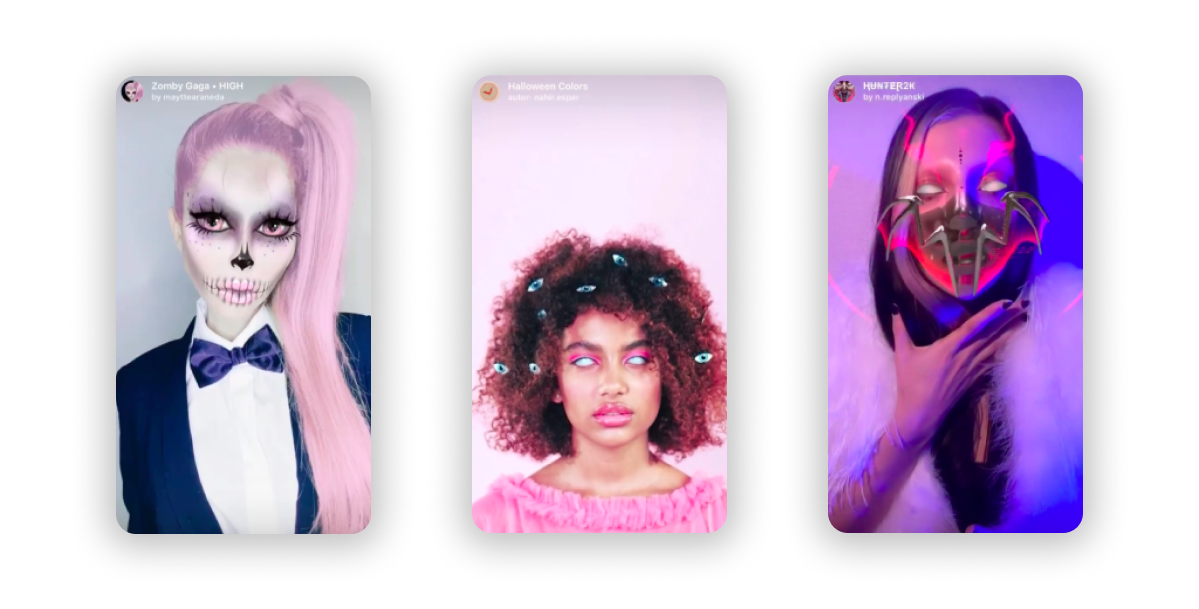 1. Haunted Dollhouse by nyxcosmetics
A fun effect that has several stages, each one will give you a terrifying guise inspired by characters that are inside a dollhouse of horror. Some of them with scars on their faces, others with stitches and button eyes. This effect is a must on this Halloween week.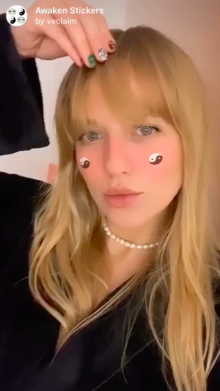 2. Awaken Stickers by veclaim
A couple of stickers to adorn your cheeks and softened skin with pinky glow is what this effect offers you. Fun and simple: it has all the charm you need to upload a fresh story.
Get Awaken Stickers
3. Protect our oceans by davidattenborough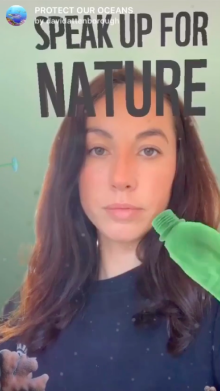 A space to talk on behalf of the protection of the ecosystem is always welcome. Use this effect, originally created to support the Netflix movie "David Attenborough: A Life On Our Planet", to do so.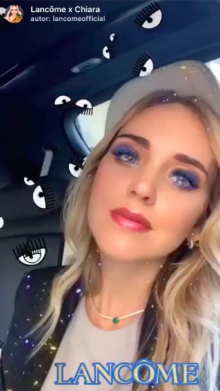 4. LANCÔME X CHIARA by lancomeofficial
An alliance between Chiara Ferragni and Lancôme is offering to IG users a collection of awesome effects. This one gives you an eyeshadow and fills your surrounding with drawn eyes and sparks.
It was made to encourage people to look luxurious and feel comfortable in their own skin.
Get LANCÔME X CHIARA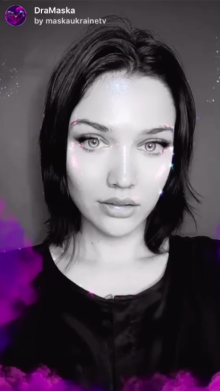 5. DraMaska by maskaukrainetv
On Halloween's week there's no such thing as "too many horror effects". This one will bring out your night spirit, by giving you an awesome mask with the help of the full moon. It also softens the skins and gives it a glow.
A fun experience that's going to make you look ravishing.
Get DraMaska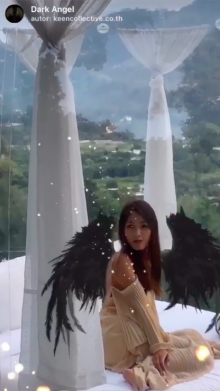 6. Dark Angel by keencollective.co.th
Do you want to know how you would look as an angel of the night? Then you should try this effect. It gives you a couple of dark wings and releases sparks around you.
Get Dark Angel
7. Zomby Gaga High by mayttearaneda
Another imperative effect for this Halloween because it will transform you into Zomby Gaga, the endearing representation of Lady Gaga in the show Monster High.
It will probably be especially interesting to Centennials.
Get Zomby Gaga High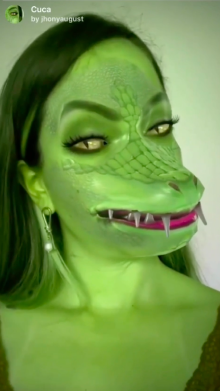 8. Cuca by jhonyaugust
This is one of those effects that we love because, thanks to the "magic" of AR, not only it transforms our look, but it also modifies the shape of our face. Let it show you how you would look as a reptile!
Get Cuca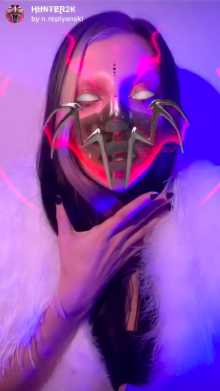 9. Hunter2K by n.replyanski
White eyes, a couple of bat wings and intense colors on your face: the daring mask that this effect gives you. It will definitely fill your stories with attitude.
Get Hunter2K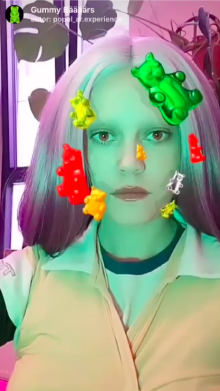 10. GUMMY BÄÄÄÄRS by popul_ar.experience
Gummy bears everywhere!! In this effect there are so many gummy bears that they won't just fill your face, you will also barf them. Try it out and have fun.
Get GUMMY BÄÄÄÄRS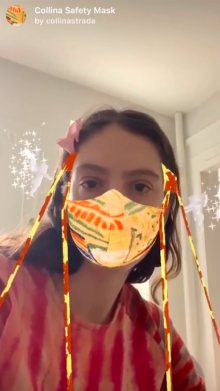 11. Collina Safety Mask by collinastrada
Safety masks have become part of the "new normal", so it's expected to find them in fun and interesting IG effects. This one, created by an account focused on the promotion of social and climate awareness, literally puts a mask on your face.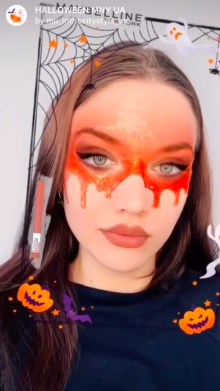 12. Halloween MNY UA by mu_inthecitystyle_ua
Try three styles of make-up inspired by Halloween season with this effect, which is sponsored by Maybelline. With it, you'll have glittery eyeshadows that will give your stories a fashionable Halloween.
Get Halloween MNY UA
13. AW 2020 by pullandbear
Who hasn't wished to be on the cover of a magazine? To do it you just need to try this filter and give your best angle. A row of stories worthy of covers is guaranteed!
Get AW 2020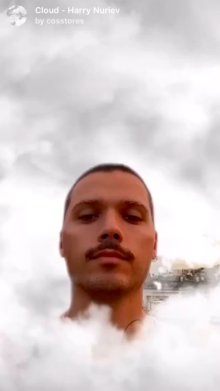 14. Cloud – Harry Nuriev by cosstores
This filter puts you in the clouds, literally. It frames your face with fluffy clouds and lets everyone know you can easily go up to the sky.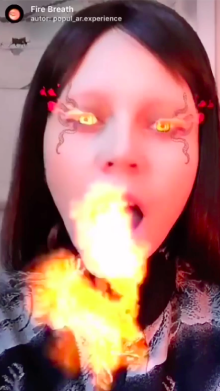 15. Fire Breath by popul_ar.experience
Fire Breath is a pretty straightforward name, since that's precisely what this effect does. It starts with your eyes on fire, but as soon as you open your mouth you'll see a stream of fire coming out. How would you like to be a lord or lady of fire on Halloween?
Get Fire Breath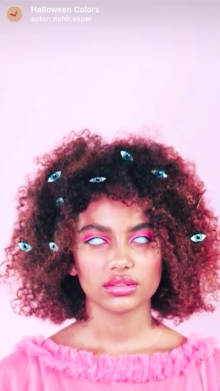 16. Halloween Colors by nahir.esper
Is it possible to get a look that's creepy and charming at the same time? Yes, as long as you use effects like this one. It gives you blank eyes and puts stickers of eyes all over your hair. It also has a general pinky glow that soften skins.
Get Halloween Colors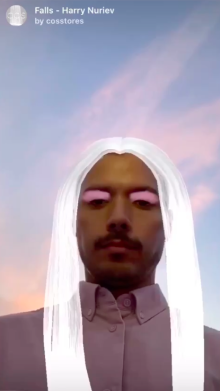 17. Falls – Harry Nuriev by cosstores
This effect gives you a glance to a new version of yourself. It substitutes your hair with two long waterfalls and paints you with kitsch eyeshadows. A playful effect to have fun with friends and give a touch of fashion to your stories.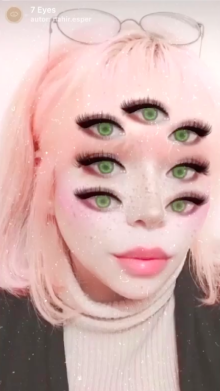 18. 7 Eyes by nahir.esper
An effect that, as its name points out, gives you 7 eyes, each one with eyeliner and colored pupils, and defines the shape of the lips. It also has a damaged photo filter, which adds that vintage touch that we all love.
Get 7 Eyes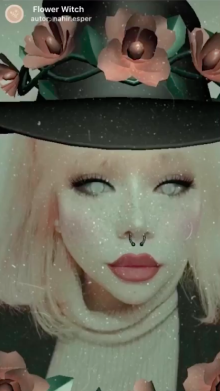 19. Flower Witch by nahir.esper
A witch effect is always welcome, especially when it's so cool looking as this one. It gives you the classic accessory for every witch: a pointy hat. It also softens the skin, defines the lips, adds a septum piercing, lines the eyes and changes their color. All of this under a damaged photo filter.
Get Flower Witch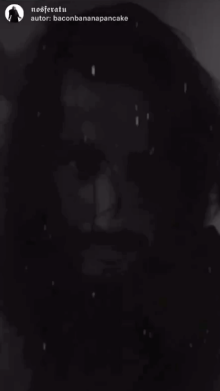 20. Nosferatu by baconbananapancake
We close our list with a tribute to one of the classics of horror: Nosferatu. This effect has a dark look and uses a film damage filter to push you into the mood of the vampire world. Make the best of it in this Halloween season!
Get Nosferatu