Head of Instagram Adam Mosseri reveals how the Instagram algorithm works
Head of Instagram Adam Mosseri has recently revealed how the Instagram algorithm works, and upcoming changes on the platform.
---
Head of Instagram Adam Mosseri recently posted a Q&A story revealing huge insights about how does the Instagram algorithm works and interesting tips to help creators benefit from it.

There's a huge belief that instagram's algorithm has recently changed, and in this opportunity he unfolded relevant facts concerning the instagram community.
In this blog, we'll break down the 5 most important facts Mosseri has mentioned about what has changed on the instagram algorithm.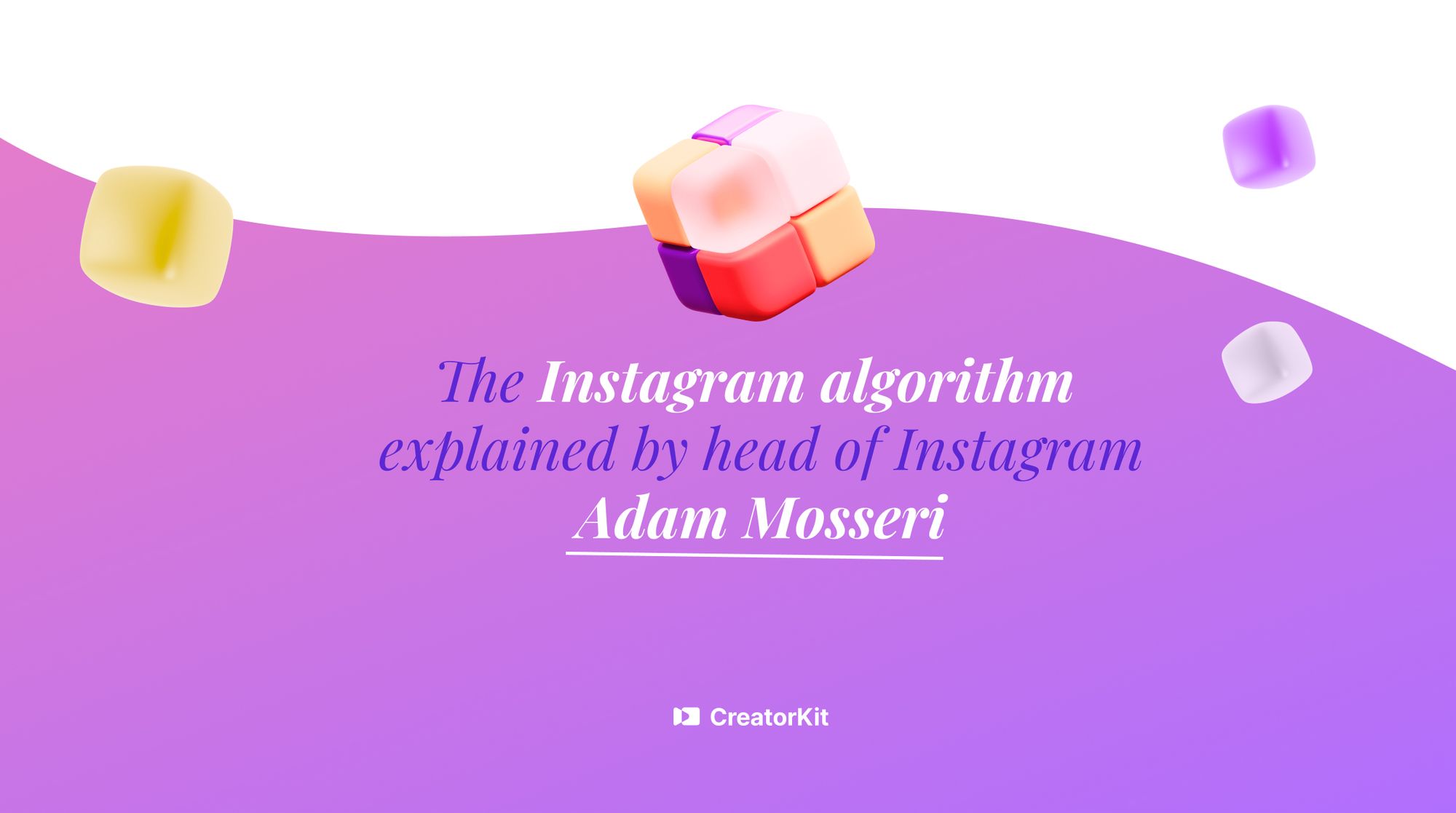 Instagram Reels
Many creator's desire is to understand how to make reels on Instagram to go viral and get noticed.
Adam Mosseri stated that Instagram's algorithm is currently focused on helping people discover every day new things to delight them and help the new talents break through on the platform.
They manage to do this by launching changes on the algorithm every week to improve the creator's visibility towards relevant audiences.
This reaffirms that the current trend and best way to improve exposure nowadays is by posting reels.
2.  Content with people's faces
There are many variables that can influence which content performs better than others for the Instagram's algorithm. One that is known to perform better is the type of content showing people's faces, though this hasn't been confirmed yet by any official source from Instagram.
In the latest Q&A, Adam Mosseri has spoken about this topic and stated that despite there's no one size fits all to this topic in the algorithm, in general, people tend to engage more in content showing people's faces rather than other things.
This actually feeds the algorithm to believe that type of content is relevant, and as a result, it shows it to more people.

3.  Instagram stories views
The Instagram stories' ranking views have for sure been something many people wanted to understand, there's a huge belief that the instagram algorithm ranking shows first those people who are interested in your content.
However, that's not the case. According to Mosseri, Instagram tries to connect you with those you might be interested in their content, using proxies to understand the likelihood of you tapping on a story they've posted or reply to them.
4.  How to increase followers on Instagram
Who doesn't wants to know the secret sauce to grow their following, leveraging the instagram algorithm?
There's not silver bullets to make this happen, however, Adam Mosseri mentioned 3 useful tips to help creators grow their Instagram presence.
Being clear about your angle:
People need to have a reason to follow you, this is why it's so important to communicate how you can differentiate from others and bring value to other people.
2. Always experiment:
The main reason there's no specific formula to grow on Instagram, is because every audience is different and reacts differently depending on the content shown. Keep testing until you find what works best for you.
3.  Lean into creating video content:
It's well known that video content is way more consumable than a static image. Adam mentioned that creating videos nowadays is highly effective on Instagram.
A great way to create engaging video content is using tools such as text to video to communicate in an easy and entertaining way. This kind of tools help the instagram algorithm to boost your reach.
5.  Exposure for beginner creators:
For those hidden talented creators that are recently starting on Instagram and don't have a big following, Mosseri explained that Instagram is currently working to improve the algorithm in the explorer section, to show their content to other people than their followers.

Independently of the following of an Instagram account, the explorer page is constantly trying to show people the best relevant content interpreted by the algorithm.
This means that by continually sharing content with niche-related captions and hashtags, instagram's algorithm will show the posts to more people.