Video Marketing Strategy: The Ultimate Guide (2022)
This video marketing strategy will help you to create the perfect flow for editing, scripting, and publishing videos online.
---
The main difference between a lame video marketing experience and an efficient one might be based on whether or not it was well planned ahead.
In this post you will get a full list of steps you should take for your video marketing strategy to get on track this year.
Launching a marketing strategy is not easy, but it can be done if you take these recommendations into account.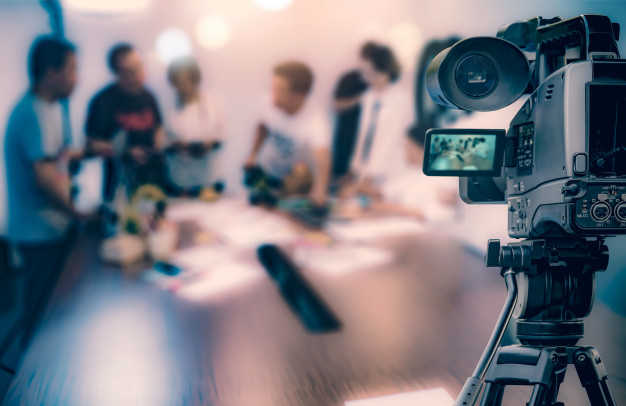 Establishing a clear guide is key to achieving your video marketing goals and increasing your ROI.
Before jumping into getting your video done, you should first focus on writing down your goals: how to proceed in order to achieve them and who is in charge of each part of the process.
Last, but super important, you need to determine how you are going to measure your digital strategy to know if it was successful.
We have asked many Instagram marketing strategy experts and social media marketing experts how to write a video marketing strategy in 2022 and asked for specific examples that way we could create a "video marketing strategy template" for you.
Then, we summed it all up in 8 clear steps.
Learn how to come up with a marketing strategy in 2022!
Step 1: Set your process
Creating a video marketing strategy is essential for any business of any field you can possibly think about.
You have probably heard that actions like marketing videos work better when looking spontaneous and chill.
Even though that might be true in certain cases, odds are you will misuse many valuable resources by doing it that way.
So, for starters, try to define your goals. This means, what do you expect to achieve?
Once you are clear about that, you need to focus on how you are going to measure the goals you established.
These are the most common goals brands look for when using video marketing and some ways to measure them:
Brand Awareness: quantity and quality of social media mentions, brand recall and recognition, or measuring the amount of video views.

Demand Generation and Conversion: impact on the conversion rate, leads count, influence on sales opportunities and pipeline generation.

Engagement: measures how long viewers stay watching your video.
Please keep in mind that this step is the key for the remaining workflow. So save a pdf of it and have it always at reach.
Step 2: Choose your type of video

There are many types of video available for you to choose from, and each of them works better for specific purposes.
Let's take a look at your options!
1. Brand videos

Advertising campaigns often include this kind of video to showcase the company's vision, mission, main values or to exhibit their products and services.
2. Case Studies and Customer Testimonial Videos
There is no better salesman than a happy client. Make the most of your satisfied consumers by letting them show your audience how good your product is.
3. Demo Videos
Demo videos are meant to explain how your product works. They usually guide viewers through a full explanation of your software, product testing or unboxing.
4. Event Videos
Creating a video to highlight your company's event is always a great way to generate content.
Conferences, round table discussions, fundraising events or parties can turn into appealing videos that catch your viewer's attention.
5. Interviews
Interviews with experts or market leaders are always interesting for people in your field and will help you build authority.
6. Tutorials
This type of video helps your audience understand how to use your product or how to do something they want to learn.
7. Animated Videos
Animation and motion graphics videos are the most attractive way to highlight your product or service.
If this is your choice, remember that you can create thumb-stopping motion graphics videos using CreatorKit.
Step 3: Choose your channels
You cannot start filming or creating your video before knowing where you will post it.
Every social media platform has specs and requirements that need to be followed in order to perform well. Don't forget to click here to get a full detail of every social media video length and spec!
1- Youtube
The main advantage of posting videos on YouTube is that your audience is already there to watch videos. This means that they are most likely to finish watching them if they are interesting enough.
In addition, you can add a link to your company's website. The Suggested Videos feature can also be very beneficial!
2- Facebook
There is a wide audience checking Facebook every minute that passes by, so it is most certainly a good platform to be in. Content goes viral easily on Facebook!
Also, the autoplay feature forces your audience to pay attention, so you have to make sure that the first seconds of your video are appealing.
3- Twitter
Keeping your videos short is key to succeed on Twitter, since short clips tend to perform better than long ones.
Also, you will get more exposure if you pin your video to the top of your profile.
4- Linkedin
B2B marketing videos are very popular among Linkedin.
Promoting conferences, workshops and business's events by using videos is a great way to increase brand awareness.
Linkedin videos work well for personal brands too.
5- Instagram
Instagram videos autoplay in mute mode.
That is a great tool for you to use, but keep in mind that the first few seconds of your video need to be thumb stopping without any help of sound.
To succeed, it is best if your videos are very visual and dynamic. Avoid starting your video with people speaking or with dull images.
Also, it is always helpful to add text to your videos, titles, subtitles and anything you would like to highlight.
Remember that you can create great titles with CreatorKit and also check here for the best Instagram tools you need to know!
Do you need to know the specs, length and dimensions for each social media network? Check this detailed blog post.
6- Snapchat and TikTok
Both of these networks target Generation Z.
Also, both of them allow you to create content with a minimum budget. Spontaneity is the whole purpose of these apps.
Snapchat and TikTok enable users to find your company's user, follow it and interact with it.
What's more, you can optimize your videos by adding keywords and hashtags.
7- Email marketing
While many people claim email is old fashioned, truth is email marketing is still one of the strongest tools we have as marketers to talk directly to our audiences.
Combining this fully customizable strategy with video marketing benefits is key to a powerful conversation with your customers.
Step 4: Set your topics and optimize for SEO

Study the keywords you want to position your video both on Google and YouTube. If you choose the right ones, your content will show on top of Google and YouTube results.
This means that users will organically click on your result, which should be the whole point of your strategy.
Click here to get detailed information about video marketing and SEO strategies.
Lets say, for example, that you want to create a YouTube channel about marketing.
Then you should analyze traffic for these keywords using a SEO tool such as Ahrefs.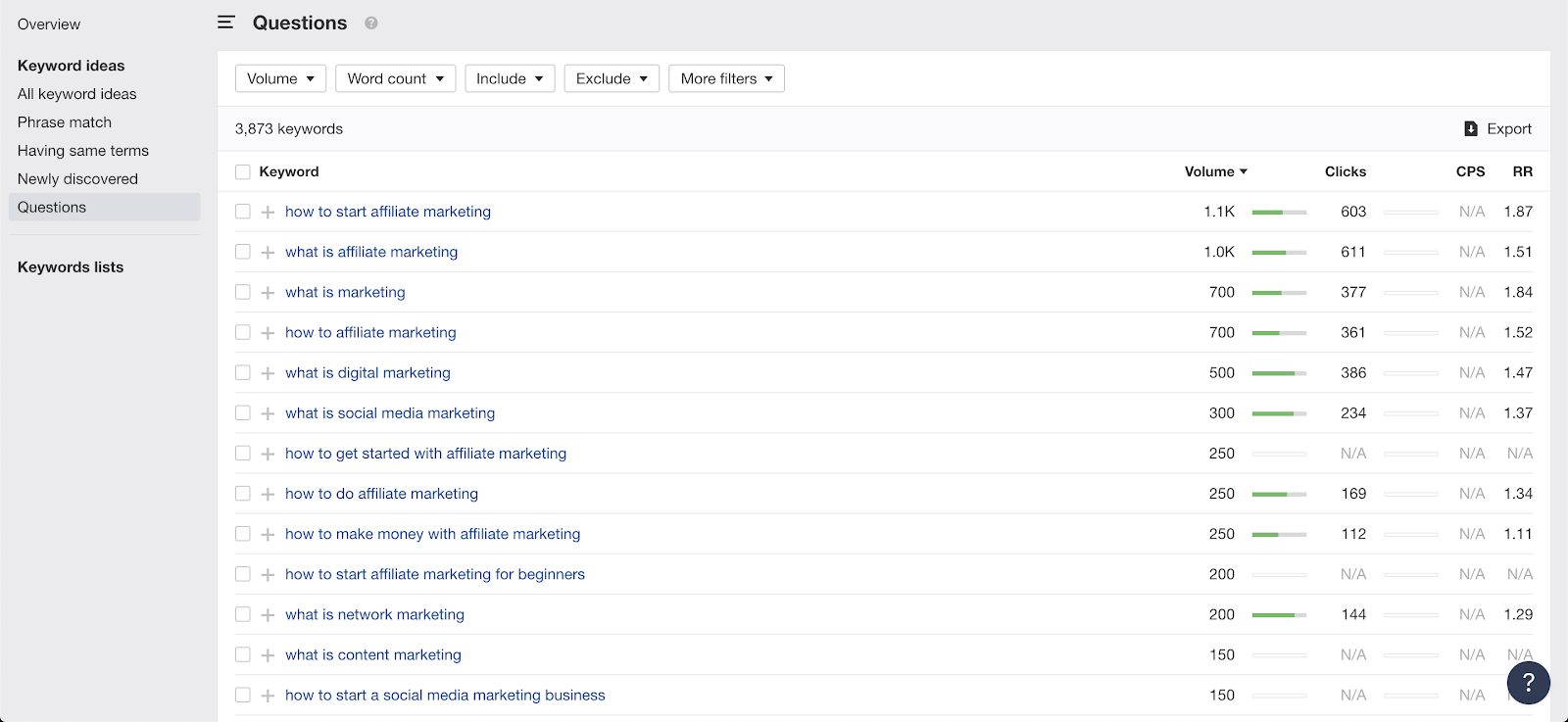 You can also filter the results by countries, estimated traffic volume and many other categories.
Step 5: Script your video
Time has come for you to write your video script.
Your script should include music, voice over, sound, visuals, titles, subtitles, dialogues and any other relevant element you may want to showcase.
However, remember that it is not mandatory for your video to have dialogues.
The important thing when deciding how to script a video is to remember that any important element needs to be written down.
If not, you might forget about it later or it could not go as planned.
Step 6: Edit your video

Editing your video is as important as filming it.
Cutting the essential scenes and eliminating the others, adding text, motion graphics and sound effects is what helps you create outstanding content.
This post production process usually needs to be done by a professional or an agency, but with CreatorKit you can create and edit videos like a pro with no prior experience.
Step 7: Create resources and designs for social media

Deciding your thumbnail is one of the last taks you need to do. Even though you might think that this is not so important, your thumbnail is a window to your video.
Creating an appealing thumbnail, with bold typography and bright colors is always the best choice.
Always try to avoid using the boring and standard screenshots that YouTube sets by default!
In addition, creating a consistent thumbnails' style for all your videos will enhance brand's recognition and allow users to easily identify your videos.
Step 8: Content promotion
There is nothing as useless as great content that no one will ever watch.
Amateur marketers often forget that promoting your video is even more important than how good it is.
Keep in mind that just publishing your video on social media will not make people automatically watch it. Conversions are not so easy to achieve.
The performance of your video on social media depends on many factors. Content marketing can take your business to the next level, but you need to know how.
Here are some ideas on how to promote content and the best places to promote content.
1- Influencer marketing

Social media experts are called influencers. Influencers have strong communities of followers with great engagement rates.
This means that audiences are already organically listening to them, and you can use that potential to reach your public.
However, it is important that you find the right influencer to showcase your brand and that you build a relationship with them.
Remember that influencers are not only a sales channel! They are real people that you need to connect with to gain brand recognition and notoriety.
2- Comment marketing

This video promotion actually implies a lot of relationship building.
Even though you could pay for bots to leave standard (and often awkward) comments on your followers's content, we strongly advise you not to.
You could even get punished for doing it!
So you should just dedicate some time to comment on your followers' pictures and on the influencer's content to slowly bond with them.
3- Guest posting

This type of promotion makes it possible for you to build content for another website or social media account with a similar audience than yours but with a greater reach.
In spite of that, you need to make sure that the site where your content will be hosted makes sense with your brand's identity. Do not just rush into guest posting anywhere!
4- Outreach/PR

This means giving media and bloggers info to write about your brand. It is important that you give them info they care about!
You shouldn't try to get them to write about everything you or your brand has ever done.
5- Paid promotion

This technique involves social media ads and content distribution networks.
This kind of promotion is usually a pay-per-click advertising.
The most important element to take into consideration for this is making sure that you have targeted your audience correctly.
6- Paid search

SEM (Search Engine Marketing) is the promotion technique that focuses on paying to get you on top of engine results pages.
By achieving that, users will click on your site and make purchase decisions.
The best tools for doing paid search are Google AdWords and Microsoft's Bing Ads.
We also recommend to check this blog post regarding video marketing statistics because it can help you to establish the best channels and budgets for your strategy.